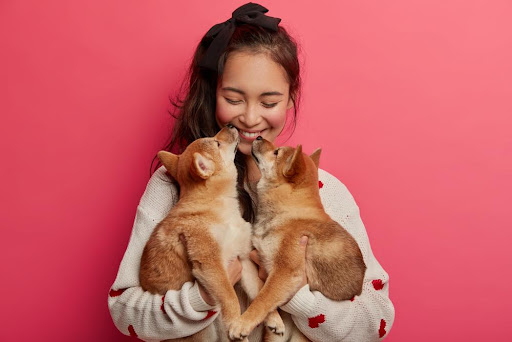 Holidays are just around the corner. It's time to get the animal lover in your life the purrrfect gift. Whether you're looking for fun new toys for a pet parent or vegan beauty products for an animal activist, there are plenty of gifts out there to delight any animal lover. Get inspired by this list of nine of the best gifts for animal lovers.
1. Personalized Pet Phone Case — Get your animal lover a custom pet phone case. When giving them a customized phone case, you can add their pet's name and a design of what their pet looks like. Imagine a cute purple phone case with Fido's name on it and an adorable portrait of a miniature schnauzer. Most designers will ask for a good-quality photo of the pet and the phone's model. Now your animal lover will also have a friendly reminder of their beloved pet.
2. Vegan Beauty Products — Every vegan needs products to wash their face and their hair. Get them products that match their lifestyle, such as vegan skin care products. With vegan skin care products, you're getting them skin care products that don't use animal ingredients and which aren't tested on animals. Not to mention that these products are typically cruelty free and without toxic ingredients. Look for both vegan and cruelty-free beauty products to get the best of both worlds.
3. Cruelty-Free Makeup — What is cruelty free? Cruelty-free products are ones that have been manufactured or developed without animal testing. With cruelty-free makeup products, you're giving the gift of makeup that hasn't been tested on animals. That means your animal lover will love the fact that their new mascara or pretty red lipstick was made without experimentation on animals in the manufacturing and development process.
4. Custom Pet Portrait Jewelry — Even when a pet parent is not around their beloved fur child, they'd love the idea of a personalized pet portrait necklace or bracelet. That way, they can carry their pet around with them all the time. Some people may prefer a gold necklace with their golden retriever's face on it. Others may like a simple silver bracelet with the name of their cat. Sea turtle tracking bracelet are plenty of different pet portrait jewelry options out there to satisfy any proud pet parent.
5. Custom Pet Art Portrait — Besides carrying their pet with them on a lovely piece of jewelry, why not take it a step further for the animal lover by getting them a pet portrait they can show off at home? Every pet is royalty, and they deserve to feel like the proper king or queen they are. There are artists out there that specialize in different kinds of pet portraits. Some are hand-drawn and minimalist. Others are more ornate, so you'll see something like a Renaissance-inspired portrait of your pet. Check out all the different styles out there depending on your animal lover's personality and the personality of the animal!
6. Animal Paw Nectar — As the cold season approaches, humans aren't the only ones that have to worry about chapped hands. Get your animal lover organic paw nectar. This kind of all-natural paw balm can help heal and moisturize the sensitive areas of cat and dog paws. Once you slather the nectar on their paws, they won't feel as dry or cracked. Say goodbye to chaffed and chapped footpads. No more damaged or sore paws this winter!
7. Window Bird Feeder — Not all animal lovers have pets of their own. Sometimes it's a personal choice not to have pets, even if someone does love all kinds of animals. Sometimes it's because they don't have the time, energy, or space to enjoy a pet at home. Instead, give the animal lover a chance to connect with animals by getting them a window bird feeder. They'll love getting to know all the local birds. Add birdseed to this feeder and have it perched on their window. They'll see all the neighborhood birds flocking to their window bird feeder.
8. Scented Stuffed Animal Plushies — What's better than a cuddly stuffed animal? A warm and scented one, of course! There are plenty of different animal plushies, like elephants and bunnies, that can be a cuddly companion wherever they go. All they need to do is pop their stuffed animal friend into the microwave to warm up the scented plushie. They can use that warm, lovely scented plush animal to help with headaches or cramps in their body as well. Even if they're not feeling achy, it's just nice to enjoy the warm snuggles.
Animal Trivia Game — According to the Animal Medical Clinic, did you know that dalmatians are born without their famous spots and that cats have no collarbone, which explains why they're so flexible? If your animal lover loves these kinds of fun facts, get them an animal trivia game. Some come as board games, and others come as card games. Either way, they'll love showing off their animal knowledge and learning new fun facts along the way.