There's always that one last glance in the mirror before stepping out the door. Maybe there's a pop of lip color or a classic smokey eye. We make sure everything is in place and flawless. The shoes, the bag, our hair — every aspect is thoughtful, functional and full of character. Even on the days when we're running errands or simply stepping out for a quick bite, our outfits are coordinated and our personal style is meaningful. We all know the essential and must-have clothing items, from the LBD to the beloved trench — those time-honored pieces that are necessary for every closet. But what about our jewelry boxes? Beyond statement pieces and decadent costume jewelry, stunning and enduring accessories are a must. Fashion is constantly changing, and while it's fun to stay up on the trends, the real achievement is in owning the timeless, everyday essentials. Day or night, these pieces are always right. 
A chic watch is a time honored classic. For a polished look from coffee to cocktail hour, there has never been a time when wearing a luxury watch hasn't been in style. For example, by accessorizing with a Cartier watch, you're adding a touch of history and sleek style to your casual brunch attire. Showing your distinguished fashion sense is simple when wearing a Rolex watch, adding class and a polished look to any style.These essential jewelry staples are more than simple timepieces, although they do arm you with function as well as fashion. 
Diamonds are, in fact, a girl's best friend. We all know Marilyn was right. Any look is complete with the addition of the always-in-style diamond stud earring. Simple and enduring, the diamond earring is a small but mighty statement. With a touch of tasteful decadence, the diamond is never underestimated but always appreciated. Twist your hair into an easy bun or pull it up in a classic ponytail and let the diamonds do the talking … errr … the shining. 
Like a classic red lip, pearls add a touch of elegance to any attire. Pearls have a rich history and have been revered for centuries. Today, when paired with a crisp button-up, shift dress or jeans, pearls are still a surprisingly versatile jewelry piece. Simple pearl earrings or a lovely pearl necklace have the ability to elevate any ensemble.The pearl will never go out of style and will remain a must-have in every woman's jewelry collection.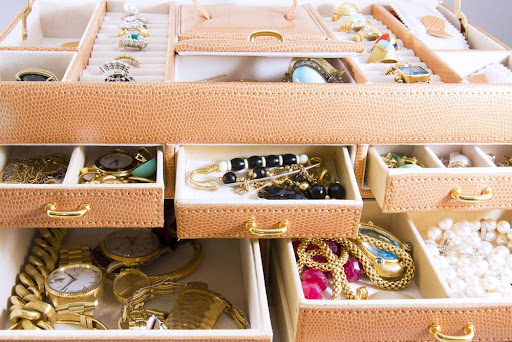 In all shapes and sizes, the hoop earring has always been here to stay. From a night away from home with the girls to a quick Zoom meeting, these dependable go-to earrings have a way of making your ensemble look complete. A small and delicate hoop symbolizes effortless control and polish, whereas a slightly larger hoop is a bold yet graceful way to pull any outfit together. If you don't have a pair or two already, what are you doing? Go find your iconic hoop.
Amp up any attire with a chain necklace. These interlocking necklaces have been working their magic for decades. Whether slim and delicate, thick and adventurous, silver or gold, the chain is always tasteful. Paired with a cashmere sweater, the classic chain shows off your impeccable taste and knowledge of how to show up every day looking your best.
A pendant necklace hits just the right spot. Sometimes we need a little pizzazz, and a pendant necklace is the perfect way to make an elegant statement. Maybe it's a vintage locket or a stunning medallion — whatever the style, this necklace is a versatile option and should have been in your jewelry box yesterday.
Don't forget about the wrist. That signature scent we love is not the only item to adorn our wrists. Enter: the bracelet. Each of these bracelets should take up some space in your collection. Make everyday elegance as easy as a flip of the wrist with these stunners:
The Bangle

–  A true everyday standard, bangles can be worn solo or stacked depending on the day's vibe. Slip one on your wrist while donning athleisure wear or make a formal button-up a bit more playful. Bangles are the true shape-shifters when it comes to everyday wearables. 

The Cuff

– Add a bit of flair to your workday attire or show your impeccable taste at that cocktail party with a chic cuff bracelet. You're bound to get compliments on this swanky statement piece.

The Tennis Bracelet

– This subtle stunner got its name when

the bracelet fell off the wrist

of tennis player Chris Evert, putting a pause on the 1978 U.S. Open. Name another piece of jewelry that's brought an intense dual to a drastic halt! The tennis bracelet, with its charm and sparkle, is the definition of an enduring classic.
Don't leave home without them. No, we're not talking about your keys. You know your fingers are basically naked without at least one ring. Classic and minimalist signets, fashionable and unique gemstones, sophisticated stacked rings and, of course, the diamond ring, which needs no introduction. All of these everyday pieces add immediate shine and subtle attitude to your look. These pieces are so versatile that you can wear the same ones every day or switch things up depending on your mood. So go on and keep building your collection. 
One of Each, Please
Fashion is something that can define and describe us without saying a single word. All of these must-own jewelry standards have a place in our hearts and in history. By adding these essentials to your jewelry box, you're making sure you own the options needed for flawless everyday style.