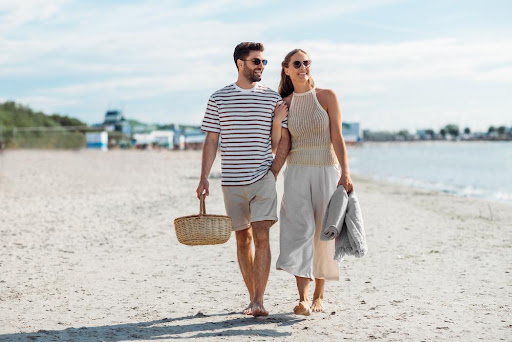 As the temperature rises and days last longer, people around the world prepare to embrace the summer season with open arms. But amidst the excitement of beach days, barbecues, and outdoor adventures, it's crucial to pay attention to how you dress. Summer is when your style can truly shine, but unfortunately, many men fall victim to common fashion blunders that can dampen their look. From questionable footwear choices to ill-fitting garments, this guide will equip you with the knowledge to navigate the summer fashion landscape with confidence.
Mistake 1: Wearing Heavy Fabrics
Heavy synthetic fabrics such as polyester can be incredibly uncomfortable and impractical in the summer heat. These fabrics tend to trap heat and do not allow proper airflow, leading to excessive sweating and discomfort.
It's essential to opt for lightweight and breathable fabrics, such as cotton or linen men's shorts, that allow air to circulate and keep you cool. Linen can have an open weave that allows air to flow freely, preventing heat from being trapped against your skin.
Cotton blends are also an excellent choice for summer. These blends retain the natural breathability of cotton while providing added stretch and durability.
Mistake 2: Not Making Stylish Choices With Casual Clothes
It's essential to pay attention to the details and make thoughtful choices with your casual outfits. Start by selecting well-fitted clothing items that flatter your body shape.
Additionally, consider incorporating trendy elements into your casual looks. It doesn't mean you have to follow every fad, but staying updated with current styles is essential. Experiment with different patterns and textures to add visual interest to your outfits. Mix and match other pieces to create unique and eye-catching combinations.
Accessories also play a crucial role in elevating your casual outfits. Invest in quality accessories like a stylish watch, a versatile belt, or a statement pair of sunglasses.
Mistake 3: Not Changing Your Shoes With the Season
Your choice of footwear can significantly impact your overall style and comfort during the summer months. It means putting away your heavy boots and closed-toe shoes and embracing lighter, more open options. You should select shoes that offer breathability and keep your feet cool. Sandals, loafers, boat shoes, and canvas sneakers are all excellent choices for the warmer weather.
Sandals, such as flip-flops or slides, are perfect for casual occasions or days spent by the pool or beach. Look for pairs made from breathable materials. Avoid low quality rubber sandals, which can cause excessive sweating and discomfort.
Loafers and boat shoes are versatile options that can be dressed up or down. They provide a sophisticated yet relaxed look, making them suitable for work and social settings. You can choose suede or lightweight leather loafers or boat shoes made from leather or canvas.
Canvas sneakers are comfortable, lightweight men's casual shoes with a stylish, everyday appeal. Look for sneakers with breathable canvas uppers. Consider investing in pairs with moisture-wicking or odor-control features to keep your feet fresh.
Mistake 4: Neglecting Colors and Patterns
Colors and patterns are crucial in creating stylish and visually appealing outfits. Understanding how to effectively incorporate colors and patterns into your summer wardrobe is essential to ensure a well-put-together ensemble.
Summer provides the perfect opportunity to embrace vibrant and lively shades. Opt for a color palette that reflects the season's energy and warmth. Bright hues like pastel blues, sunny yellows, and vibrant greens can instantly uplift your outfit and give it a fresh, summer-appropriate feel. However, it's crucial to balance these bold colors with neutral tones such as white, beige, or light gray to avoid overwhelming the overall look.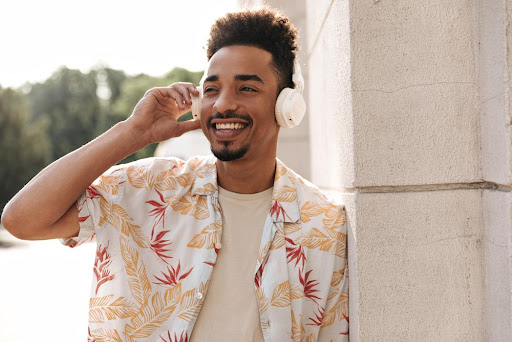 In addition to colors, patterns can add depth and visual interest to your summer outfits. Stripes, florals, check, and geometric prints are popular choices that can inject personality and style into your attire. If you wear a patterned shirt, pair it with solid-colored bottoms to maintain balance. Equally, if you choose patterned shorts or pants, pair them with a solid-colored shirt or a more subtle pattern.
Mistake 5: Overdoing Accessories
Over-accessorizing can overwhelm your overall look and create a cluttered and distracting appearance. Choose a few well-selected accessories that complement your outfit rather than piling on multiple pieces. Here are some tips to avoid overdoing accessories:
Focus on One Statement Piece:

Instead of wearing multiple statement accessories, choose one standout piece as the focal point of your outfit. It could be a stylish watch, a patterned pocket square, or a bold bracelet. Let this accessory take center stage while understating the rest of your accessories.

Keep It Simple:

Opt for simple, timeless accessories that enhance your look without overpowering it. A classic leather belt, a sleek tie clip, or a minimalist necklace can add a touch of sophistication without being overly flashy.

Consider the Occasion:

Consider the setting and dress code when selecting your accessories. Stick to more subtle and refined pieces for semi-formal events, while casual occasions allow for more creativity. However, always remember to maintain a sense of balance and avoid excessive embellishments.
Mistake 6: Wearing Ill-fitting Clothes
In the scorching heat, prioritizing comfort is crucial. Ill-fitting attire can make you look sloppy and feel uncomfortable. Baggy, oversized clothes can create an unflattering look, while tight clothing restricts movement and can lead to excessive sweating.
Select clothing that fits properly and flatters your body type to sidestep this mistake. Invest in quality men's polo shirts, shorts, and pants that can accentuate your shape without being too tight or restrictive. Pay attention to the length of your shorts and ensure they fall just above or at the knee for a balanced and polished look.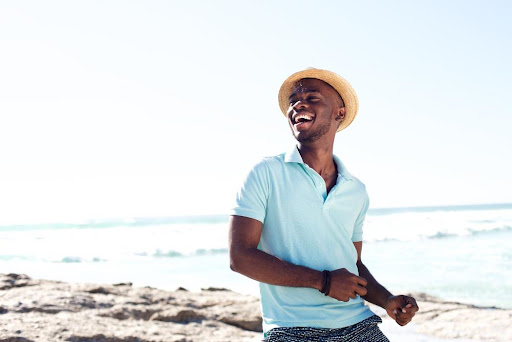 Elevate Your Summer Style and Avoid Fashion Faux Pas
With summer in full swing, men should consider their fashion choices and avoid common pitfalls. You can elevate your summer style and make a lasting impression by sidestepping fashion mistakes such as wearing heavy fabrics, neglecting colors and patterns, not changing shoes with the season, and overdoing accessories. Remember these tips as you plan your summer wardrobe!