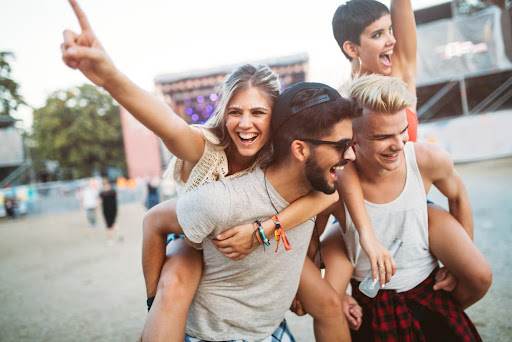 Any guy who goes to a music festival wants to enjoy the music, have a great time, hang out with cool people, and look great. Sporting stylish, comfortable clothing, even something as simple as a plain v-neck, can play a big part in the process. Let's talk about tips for music festival dressing for guys and key pieces to consider wearing.
Tips for All Festival Clothing
One of the most important things to keep in mind about men's festival fashion is that it's not all just about the look. What you wear can have a big impact on your overall experience. There needs to be a consideration for comfort, weather conditions, and safety. The right outfit can incorporate all aspects, so it's essential to choose clothing accordingly.
Lightweight T-shirt
A lightweight t-shirt is a must. Choose one or more in the right size, material, and fit, and you can easily go through a whole day at a festival. Of course, a good tee will be worn many days throughout the year as a versatile part of your wardrobe.
Options like a pocket t-shirt can keep you organized with the added storage feature. Use the pocket to store small items (as long as you know the objects won't fall out) that you want readily available without needing to dig through a bag.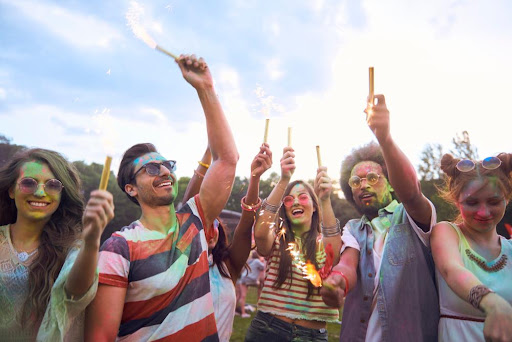 A v-neck is another type of t-shirt to consider. This type of tee was initially worn under semi-unbuttoned collared shirts, so its neckline wasn't visible. V-neck t-shirts are now worn as-is for a stylish standalone option.
If you're looking for a t-shirt color option ideal for music festivals, consider black. It can help hide sweat and dirt, and it matches well with most colors, making it easier to wear with anything in your closet when you're back home.
Sweat-wicking Joggers or Shorts
It can get incredibly hot during the day at music festivals. The last thing you want is to feel overly sweaty and uncomfortable. Sweat-wicking men's jogger sweatpants or shorts offer a modern, versatile look composed of material that helps keep sweat away from your skin. They're also great to pair with any t-shirt for a complete look you can wear any day of the event.
Comfy Shoes
As much as you might want to wear flip-flops to music festivals, you're better off going with more secure footwear. Sneakers are ideal for keeping feet clean and comfortable. They also offer protection from the sun and other people at the festival who might accidentally step on your feet or other potential dangers of wearing inappropriate footwear.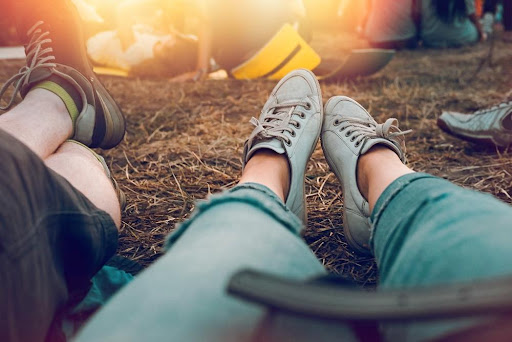 You'll also want to wear footwear you won't mind getting dusty and dirty. With all the dirt bound to get kicked around, your shoes probably won't look as clean when you get home as when you left.
Sun Protection
You already know that sunscreen is important, especially when you're going to be outdoors at a music festival for a day or more. Follow the instructions on the packaging, and reapply accordingly.
Other forms of sun protection can help keep you shielded from the sun's rays so you can focus on having a good time. Sunglasses are not only ideal for protecting your eyes, but they can also help you see easier while the sun is shining. A baseball cap can also be beneficial. Bring a bandana with you and tie it around your neck to protect yourself from being sunburnt.
Layering Top
Many might think that the hot temperatures will continue into the night, so it's fine to only bring shorts, t-shirts, tank tops, and other lightweight wear. However, many festivals are held in dry or desert areas, so chances are temperatures will drop dramatically at night. It can get chilly or downright cold, which means if you want to stay warm, you'll need a layering top.
Bring something easy to tie around your waist, throw over your shoulder, or stuff into your bag, so you don't have to carry it by hand. A long-sleeved overshirt is a good option. You can easily wear it over a t-shirt, it will keep you warm, and it's not too bulky to tote around. Opt for one that has pockets, so you have extra ways to carry small items.
Crossbody Bag
Do you really want to carry around a bunch of items in your hands while you're at the music festival? It can be cumbersome to do so and can increase your chances that you'll accidentally drop or lose something. A crossbody bag lets you safely carry your items hands-free. Plus, you won't have to worry about someone potentially trying to go in it as you might with a backpack.
There are plenty of stylish men's crossbody bags with enough room for your keys, wallet, and water. Wearing the bag in front of you will help keep everything orderly and convenient. Look for a bag with an adjustable strap, alter it accordingly, and ensure it's comfortable to wear.
Bringing Backup
Keep in mind that, at any point, you might need to change one or more parts of your outfit during the day, especially if your clothes get dirty or drenched in sweat. Bring several lightweight men's t-shirts and other clothing as a backup that you can change into. This will help keep you looking good and feeling comfortable throughout any music festival you attend.