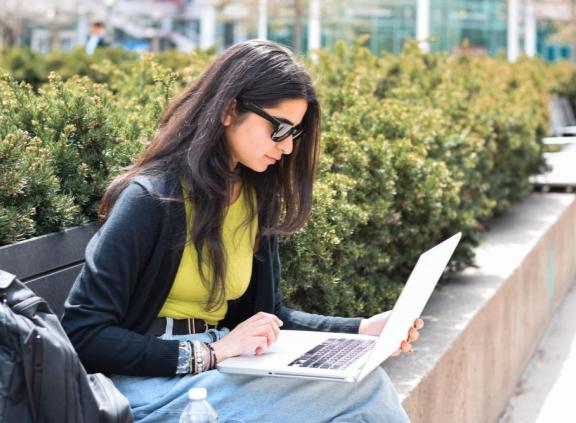 Image Source: JulieK2 on Offset/Shutterstock.com
Gone are the days when office attire strictly meant tailored suits and pencil skirts. In the modern workplace, dresses have become a versatile and stylish option for women, offering comfort and professionalism without compromising on fashion. However, styling dresses for the office can sometimes be a daunting task. How do you strike the right balance between style, professionalism and personal comfort?
Whether it means finding comfortable heels for women to wear every day or rethinking the styles of dresses you're drawn to, there's sure to be a simple tip below to help you start styling and showing off your dresses in the office as soon as possible — and not a second too soon with the summer season right around the corner!
Choose an Appropriate Length and Silhouette
When selecting dresses for the office, pay attention to the length and silhouette that align with your workplace's dress code and your personal style. Aim for dresses that fall at or just above the knee, as this length is universally flattering and office-appropriate. Along with this, you're best to opt for silhouettes such as A-line, sheath or wrap dresses, which exude elegance and professionalism and flatter most body shapes.
Adding a belt to your dress is also an instant way to elevate your look and create a flattering silhouette. A slim or medium-width belt in a complementary color (or a statement belt with an interesting buckle) will work best, but the options are endless.
Embrace Classic Prints and Colors
Classic prints and colors are timeless choices for office attire, radiating sophistication and professionalism. Subtle patterns like pinstripes, houndstooth and (small) polka dots in particular will add visual interest without overwhelming your overall look. When it comes to colors, neutrals like black, navy, gray and taupe are versatile and easily paired with various accessories.
Incorporate Different Textures
Introducing different textures to your office dress can add depth and visual interest to your ensemble. Consider dresses with textured fabrics like tweed, jacquard or lace. These subtle details can make a significant impact, transforming a simple dress into a stylish statement piece. Experiment with textured accessories like a crocodile-embossed handbag or a woven belt to further enhance your outfit.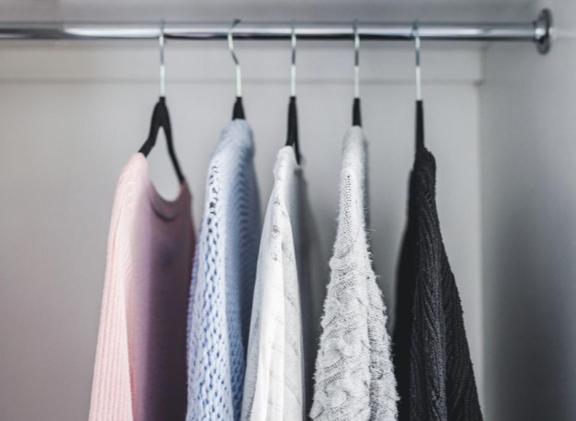 Source: faithie/Shutterstock.com
Be Picky About Footwear
Shoes say a lot about you, so make sure they're giving the right impression and always invest in quality footwear — especially when it comes to your work wardrobe. This means that they should be made well (look for features like double stitching and luxury materials), fit well (look for good arch support and sizing), feel good (look for features like cushioned insoles), function good (look for features like good tread) and, of course, look good (definitely find washable shoes for women for work). So whether you prefer a flat or loafer, moving freely and fashionably throughout the day is the goal.
If you prefer a more elevated look (as many office workers do), comfortable heels are almost always accepted in the office so long as they feature sturdy heels that aren't overly high. Oftentimes, a closed-toe will be called for and an ankle strap for stability and support may be a good idea, but otherwise, the only considerations come down to how you want to style your dress.
As a general rule of thumb, neutral shades that complement your dress will be ideal. During the summer months, comfortable sandals in professional styles can also be a chic and elevated choice for the office, but you'll absolutely want to opt for dressier styles and dresses in breathable fabrics and light colors to create a polished yet summery look.
Incorporate Other Layers
Layering is a fantastic way to add versatility to your office dresses while adapting to fluctuating temperatures in the workplace. Consider pairing your dress with a well-fitted blazer to instantly elevate your look and exude a sense of authority. Choose neutral colors, or experiment with a pop of color to add personality and power to your ensemble.
Cardigans and sweaters are also a fantastic way to elevate or adapt an outfit for the office and are ideal for transitioning from season to season. When it comes to cardigans, you'll want to opt for materials like merino wool or cashmere for a luxurious feel, and possibly tie a belt around your waist to create a more defined silhouette that matches the dress.
Add Accessories
The right accessories will instantly elevate your office aesthetic into something even more appropriate or amazing. Aim for timeless office accessories like glasses, glasses chains, simple jewelry, belts and socks — but be sure to incorporate a little bit of your own personality into these pieces through a bright pop of color, a pattern you love or otherwise.
Aside from most any timeless accessory, there is one trendy accessory that stands alone in its compatibility with the office aesthetic: the structured leather tote bag. A structured leather tote bag in a neutral color will instantly add a polished and professional touch to any outfit. Just be sure to look for a size that accommodates your daily essentials without being too bulky or distracting.
Remember What It's All About
As you step into the office each day, your choice of dress speaks volumes about your confidence, professional identity and personal style. Luckily, curating a collection of stylish and sophisticated office dresses that empower you to conquer each workday with style and grace and make a good lasting impression doesn't have to be hard. So follow the advice above and conquer your closet just like you plan to conquer each workday with the clothes in it!