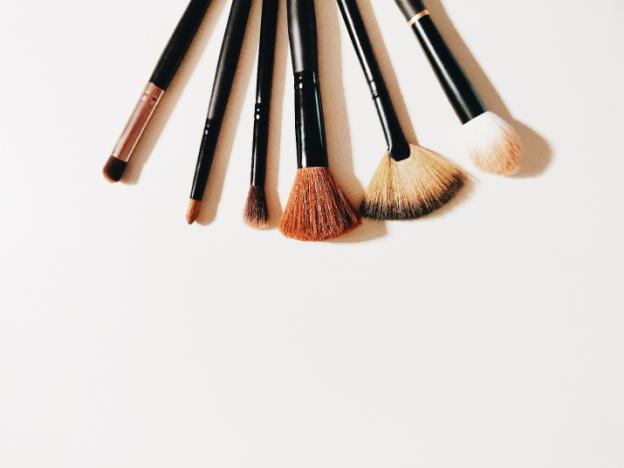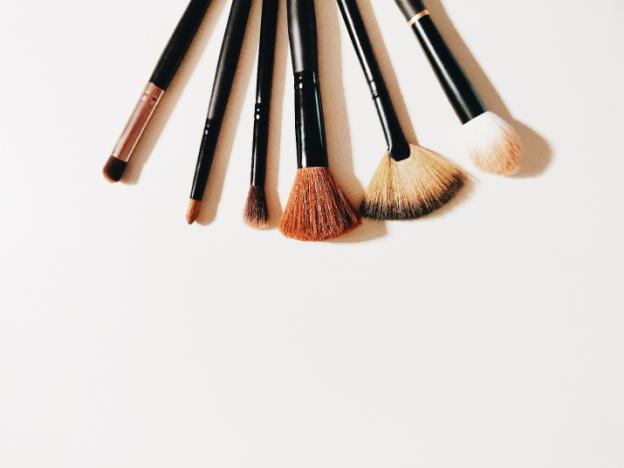 Have you ever been presented a wide array of Professional Makeup Brushes and applicators and wondered: what the heck are these?
Unless you're a professional makeup artist, someone who attended a makeup course, or just someone who loves watching beauty tutorials online, cosmetic brushes can be a bit complicated to decode. These brushes come not only in different sizes – they come in different bristle lengths, shapes, and density, which dictate how they're intended to be used. Unfortunately, they don't come in instruction manuals.
This is where a guide like this comes in handy. If you're a newbie who wants to learn the basics first, this simple list of basic makeup brushes and their uses might help you.
Complexion Makeup (Liquids and creams) 
1. Foundation Brush
The classic foundation brush has tightly packed bristles and a flat top. They're intended for applying liquid or cream formulas for an even, streak-free coverage and flawless blend.
Use the brush to dot foundation in the middle of the forehead, either side of the nose and below the lips. Blend it all outwards for a seamless finish until you no longer see any harsh lines.
2. Angled buffer brush
This brush has a densely-packed angled bristles for buffing your way to a flawless face. It's great for cream-based contouring, highlighting, and blush products.
o    For contouring: Apply a streak of the product along the cheekbones, and blend with short movements
o    For blush: Apply a dot of product on the apples of the cheeks and blend in circular motions
o    For highlighting: Sweep the product across the high points of your cheeks, nose bridge, cupid's bow, and chin.
3. Concealer makeup brush
It's like your classic foundation brush but has a smaller head and shorter synthetic bristles. It's best for applying concealer makeup with precision to the little nooks and crannies of your face, like under the eyes, sides of your nose, and over a blemish. It also comes with an angled version for highlighting your brow bones for cleaner eyebrow makeup.
4. Beauty Blender
This award-winning egg-shaped sponge is versatile; you can use it for applying cream-based makeup like foundation, concealer, contouring products, and cream blush, and blending your makeup smoothly.
Squeeze it a few times under water and roll off the excess on a towel.  Once damp, dab on a foundation for even, natural-looking coverage.  
Complexion Makeup (Powder-based)
5. Powder brush
Powder brush has a long head with soft, loose, and fluffy bristles and a slightly rounded tip.It's used to apply a variety of finishing powders, from loose to pressed, to set your makeup.
Apply powder to your T-zone (forehead, nose, and chin), your cheekbones, and your jawline to get rid of shine.
6. Blush brush
This brush has soft, fluffy bristles that are best for applying powder-based blush products. Simply sweep onto the cheek and brush along the cheekbone for a beautiful rosy glow.
7. Angled contour brush
This brush has a slightly-slanted cut head and soft bristles. The angled bristles work best for powder-based contouring products, like bronzers and highlighter. Just sweep the brush across your cheekbones, forehead, and jawline for subtle contouring.
8. Kabuki brush
This huge, versatile brush has a flat top and extremely soft voluminous bristles. It works to apply powders and bronzers in larger areas and evenly distribute product and infuse colors across your face, neck, and body.
9. Fan brush
A fan brush looks like, well, a fan. This brush with ultra-light bristles is used to delicately dust your cheekbone and nose tip with a highlighter. You may also use it for cleaning up excess powder fallout.
Eye Makeup
10. All-over eye shadow brush
There are two types of eyeshadow brushes you need – and this flat, fluffy, medium-sized brush is the first one. It's used for precisely infusing color to your eyelids. Apply in a windshield-wiper motion for intense color.
11. Crease blending brush
The second eyeshadow brush has long, fluffy bristles and a slightly pointed head. It's used to diffuse hard eyeshadow lines and blend multiple eyeshadow shades together along the crease with ease.
12-13.    Eyeliner brushes(Fine, smudger, angled)
Eyeliner brushes come in different shapes and purposes:
o    Fine eyeliner brush
This ultra-slim and fine brush is fantastic for precise application of liquid eyeliner
o    Smudger brush
This is used to soften eyeliner and any hard edges, creating a smokey, sultry look.
o    Angled defining brush
This has short, stiff bristles and angled head for precisely shaping, defining, and filling in brows. Dip in brow powder to mimic eyebrow hairs. Use light, short strokes at anything that looks sparse.
It can also be used as an eyeliner brush for a perfect cat-eye. Dip in a gel or cream pot and start the line at the outer corner of the eye and work inwards.
14. Brow brush + Spoolie
A double-ended eyebrow-shaping brush often consists of an angled defining brush (see above) and a "spoolie", which is used to tame eyebrows and blend your eyebrow makeup. A spoolie also works to de-clump lashes and remove excess mascara.
Lip Makeup
15. Lip brush
A lip brush has a finer tip that's perfect for flawlessly applying lip color, especially the darker shades. Applying makeup using a brush is better than gliding straight from the tube if you want to be more precise with outlining and filling in.
Author Bio: Mina Natividad is a resident writer for Napoleon Perdis Makeup Courses, a leading luxury makeup brand in Australia, which prides itself in delivering top of the line cosmetics and makeup courses. Sticking to the heart of the cosmetics brand, she aims to empower women with articles about style and beauty.