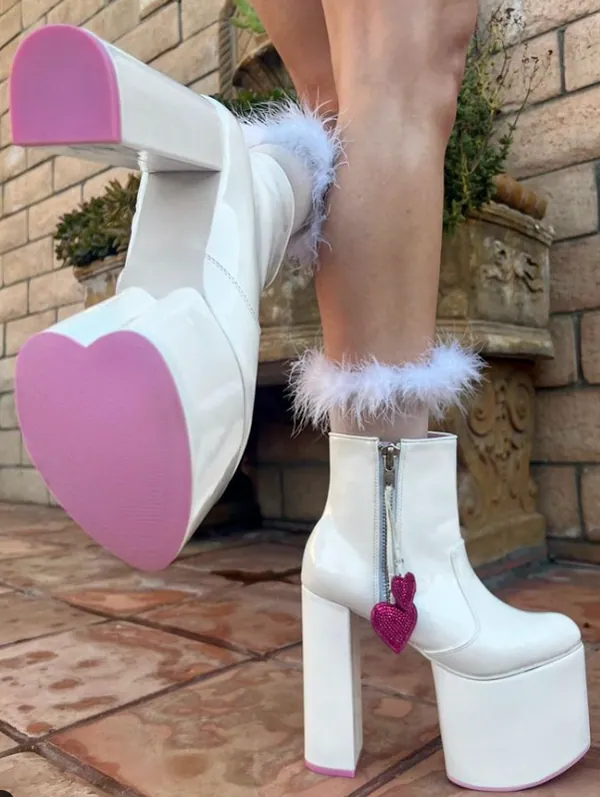 Image Credit: dollskill
Platform heels are a must-have for your wardrobe. But how do you wear them? You don't want to look like you're trying too hard, or that you're only rocking the look because it's in style. You want to look like you're really owning the trend. In this blog, we provide some tips for how to rock on platform heels and what type might be best suited for you. 
1. To stand out
Platform boots are all about showing off your legs and making an impression with your height, so take advantage of that by wearing platforms with lots of embellishments and details! You can go for anything from bold prints (leopard or zebra) to patterns (polka dots) to unique styles like lace-up or platform boots. People will know you mean business when it comes to fashion.
2. For a classic look
When it comes to heels, we're all about the classic look. That's why we love our Mary Jane-style platform heels. We've taken a classic shoe and given it a modern update with a platform and heel that will keep you looking stylish and feeling confident.
We love the Mary-Jane style because it gives you a little more room to wiggle your toes and makes this shoe a little more comfortable than other styles of platform heels. Plus, you can wear them with jeans, dresses, shorts… you name it! They come in many different colours and patterns, so you can find something that suits your style perfectly.
If you're looking for platform boots that are affordable but will last for years to come, these shoes are exactly what you need. They're made from high-quality materials that will long outlive any other shoes in your wardrobe if cared for properly.
3. To embrace retro styles
In the '60s and '70s, the platform shoe was a staple of the fashion world. Today, it has returned to its former glory, with all kinds of decorations and styles on offer. As we all know, retro is in, and we're seeing it everywhere – from the catwalks to Instagram! The 1970s are definitely back, and they are here to stay.
Platform heels are a great way to embrace this retro style. They are perfect for any occasion, whether you want something comfy that will add height to your look or you simply want a jazzy pair of boots that will stand out from the crowd. They come in every shape and size imaginable, so there is one that will fit your style perfectly.
4. The bigger, the better
Platform heels are a great way to make a statement. If you're looking for something fun and bold, then there really is no better choice. 'The bigger, the better' is the rule of thumb when it comes to platform heels. There's no point in having just a little bit of extra height on your shoe that no one is going to notice, you want people to really be wowed by your looks.
Platform heels are great for people who enjoy bolder and brighter styles, so if you're the type of person who likes to push boundaries when it comes to fashion, this style will definitely appeal to you.
With these tips, you can rock your platform heels like a pro. With a little practice, you can be as comfortable in your heels as you are in your flats.
Also Read: Benefits of Wearing Compression Clothing Explained