You've booked your hotel. You have a list of all the sights you want to see during your vacation. You plan on laying out on your towel to soak in the sun and play in the water and sand for hours. Now you need to pick and figure out what you want to wear. Before you pack a bunch of clothes you won't actually wear, pack smarter and read on to get nine style tips to boost your beach vacation wardrobe. From deciding what bathing suits to wear to figuring out what sexy bras to pack to set the mood, you'll know exactly what you'll need to put in your suitcase this summer.
1. Wear What's Comfortable — The best way to boost your wardrobe style during your vacation is to wear what you'll actually enjoy wearing. What's comfortable for you may not be comfortable for someone else. It's totally subjective. If you feel comfortable wearing your favorite cotton tee and go-to denim shorts this summer, go for it. If you want to feel comfortable knowing that you're in your favorite sparkly sequin dress to wow your date on a warm summer evening, the world is your oyster.
2. Wear What Makes You Feel Confident — The second most important tip to keep in mind is that you should only wear what makes you feel confident. Confidence starts from the inside out. You're sure to radiate confidence when you start with the basics. Think about the undergarments you're wearing. If you're still wearing your old bras and undies from years ago, it's time for a change — especially if it's going to be during your beach vacation. Treat yourself and get some new sexy bras to boost your confidence. You can wear bras like bralettes that double as tops. To wear a bralette with confidence in public, don a fitted blazer or cozy open cardigan shawl.
3. Wear Light Colors — Don't let the heat get to you. Choose to wear light colors during your vacation. When the sun is shining down on you, you don't have to worry about the sun rays absorbing too much onto you and your clothing when you're wearing lighter colors. Stay away from dark navy and opt for a light powder blue instead. It's going to be a white-hot summer. Just remember that even the lightest clothes won't protect you from UVA and UVB sun rays, so be sure to wear plenty of sunscreen with broad-spectrum sun protection.
4. Stay Loose — Don't wear fabrics that are skin-tight and will stick to you. Go with the flow by wearing flowy pieces. Think maxi skirts and loose tees. This will give your skin some breathing room.
Source: Dean Drobot/Shutterstock.com
5. Use Breathable Fabrics — On that note, avoid synthetic fabrics as much as possible during your beach vacation. Use organic fibers like linen, silk and cotton. They'll feel better on your skin and you'll look quite glamorous on your beach vacation when you're wearing a silk cover-up over your swimsuit.
6. Grab Your Sunglasses — Sunglasses are great protection for your eyes! When you're out in the sun all day, sunglasses will help prevent any damage to your eyes. Plus, they're quite stylish. Go for sunglasses in bright and bold colors like coral red and robin egg blue. That '70s-inspired sunglasses trend of XXL aviators is here to stay. Opt for tinted lenses with a blue tint or honey yellow. You'll be seeing your whole vacation through rose-tinted glasses.
7. Accessorize with Hats — For protection for your hair, wear hats! Besides wearing a hat, you can also get hair powder to protect your scalp and your hair from UV damage. Wear a hat as a means of extra protection. There are plenty of cute hats you can wear during your vacation. From cotton knit hats to bucket hats, you'll be covered and stylish all at the same time.
8. Different Clothes for Different Occasions — According to a survey from Holiday Hypermarket, 90 percent of women don't wear all the clothing they pack on vacation. You don't have to pack your entire wardrobe with you. While you'll need different clothes for different occasions throughout your vacation, you can reuse some items. Realistically, you won't need more than one or two swimsuits. If you pack jean shorts, you can wear those two or three days in a row. Wear them during the day at the beach with your flip flops and dress them up at night by pairing them with chunky sandal mules.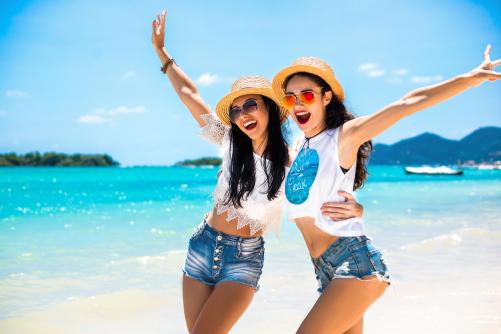 Source: Navistock/Shutterstock.com
9. Rock the Everyday Swimwear Look — Here's the best part about all of these beach vacation wardrobe tips: you don't have to leave these tips behind when you return to the real world. The everyday swimwear look is one you can incorporate into your daily routine. In the same way that we've made leggings and athleisure a part of your everyday wardrobe, you can wear your one-piece and dress it up with a fitted blazer and strappy heels. Keep your two-piece bikini casual by wearing it underneath a sheer dress and sandals. Get inspired by women's bathing suits to see how you can wear these pieces through the entire summer season and beyond.