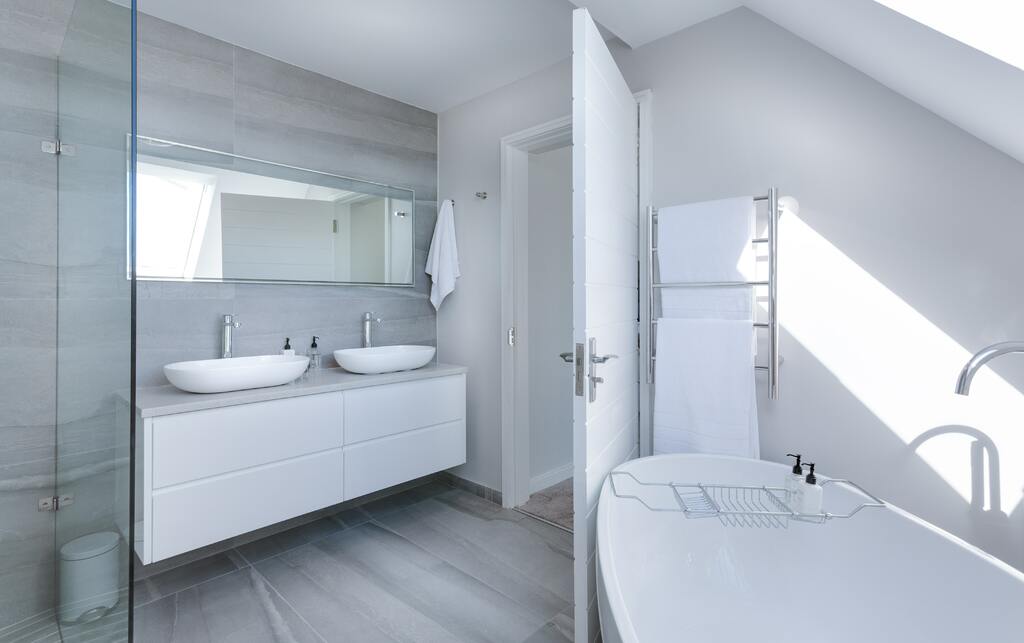 Remodeling your bathroom can be a big investment, so you want to make sure you do it right. Unfortunately, many people make common mistakes that can cost them time and money. Here are the five biggest mistakes people make when remodeling their bathrooms.
1. Not Hiring a Professional Bathroom Remodeling Contractor
One of the essential rooms in your house is the bathroom. It is a place where you begin and end your day, but it's also a reflection of your style. Many people choose to tackle bathroom remodeling projects independently, thinking that they will save money by not hiring a professional bathroom remodeling contractor. However, this is often not the case. A bathroom remodel is not a DIY project.
A bathroom remodel can be overwhelming, from plumbing to tile work for a homeowner. Without the help of a qualified bathroom remodeling contractor, it can be challenging to complete a bathroom remodel successfully.
A bathroom remodeling contractor has the experience and expertise necessary to help you avoid common mistakes and pitfalls. In addition, a bathroom remodeling contractor can often get discounts on materials and labor, which can save you money in the long run. As a result, hiring a bathroom remodeling contractor is usually worth the investment when embarking on a bathroom remodeling project. A good contractor will be able to help you plan your project, choose suitable materials, and oversee the construction process.
2. Not Getting Permits
Many municipalities require permits for bathroom remodels, so check with your local building department before starting any work. The answer depends on the scope of the project. For example, if you're simply replacing fixtures and appliances, you probably won't need a permit.
However, if you're making significant changes to the room's layout or doing structural work, a permit may be required. Failing to get the proper permits can result in costly delays or even fines, and it could also void your homeowner's insurance.
If you're not sure whether your project will require a permit, the best course of action is to consult with a bathroom remodeling contractor. They will be familiar with the requirements in your area and advise you on whether or not you need to obtain permits. In some cases, the contractor may even be able to pull the necessary permits on your behalf. It's always better to be cautious about bathroom remodeling.
3. Not Planning for the Future
One of the biggest mistakes people make when bathroom remodeling is not planning for the future. Many homeowners choose to remodel their bathroom to make it more functional or increase its resale value. However, without a clear plan for the future, it's easy to end up with a bathroom that doesn't meet your long-term needs.
For example, if you're hoping to sell your home soon, you'll want to make sure that your bathroom remodel will appeal to potential buyers, or if you're empty nesters, you might want to consider turning the tub into a walk-in shower. Another example is that you might love that bright pink tile now, but you might regret it in a few years.
If you're planning on staying in your home for years to come, you'll need to consider carefully how your bathroom remodel will fit into your lifestyle. By taking the time to plan for the future, you can ensure that your bathroom remodeling project will succeed.
It's important to think about how your bathroom will look in the future and choose materials and finishes that you'll still be happy with down the road. By thinking ahead, you can avoid having to redo your bathroom sooner than necessary.
4. Not Budgeting for Contingencies
A bathroom remodel can be expensive, and one of the biggest mistakes people make is not budgeting correctly for their project. Get accurate estimates for materials and labor before starting your project. In addition, it's a good idea to set aside 10-20% of your budget for unforeseen contingencies.
When planning your bathroom remodel, there's always a risk that something will go wrong during a remodeling project. Don't forget to factor in the cost of permits, materials, labor, and contingencies. By taking these factors into account, you can avoid making common mistakes that cost you time and money.
5. Choosing the Wrong Materials
If you're thinking about bathroom remodeling, one of the most critical decisions is choosing suitable materials. Use the wrong materials, and your bathroom remodel could be a disaster.
First, think about durability. Your bathroom sees a lot of traffic and needs to be able to stand up to wear and tear. Avoid materials susceptive to mold and mildew growth, such as porous stones or woods.
Second, consider maintenance. You don't want to be constantly cleaning and polishing your bathroom fixtures.
Third, pick materials that fit your style. If you're going for a sleek, modern look, shiny chrome fixtures might be the way to go. On the other hand, if you're aiming for a more traditional feel, oil-rubbed bronze or copper might be better.
If you're not sure what materials to choose, consult with a professional bathroom remodeling contractor. They can help you select materials that will meet your needs and budget. With careful planning and the right team on your side, you can create the bathroom of your dreams.
Consult the Right People
Remodeling your bathroom can be a dreadful task, but you can ensure a successful project by avoiding these common mistakes. By taking the time to plan and budget properly, you can avoid these mistakes and end up with the bathroom of your dreams.
With careful planning and the right team on your side, you can create the bathroom of your dreams. You might ask yourself, "Do I have to start looking for a bathroom remodel near me?" If you need help with the planning or execution of your remodel, don't hesitate to contact us. We would be happy to assist you in any way we can
Also Read: Add a touch of luxury with small table lamps and resin floor lamps